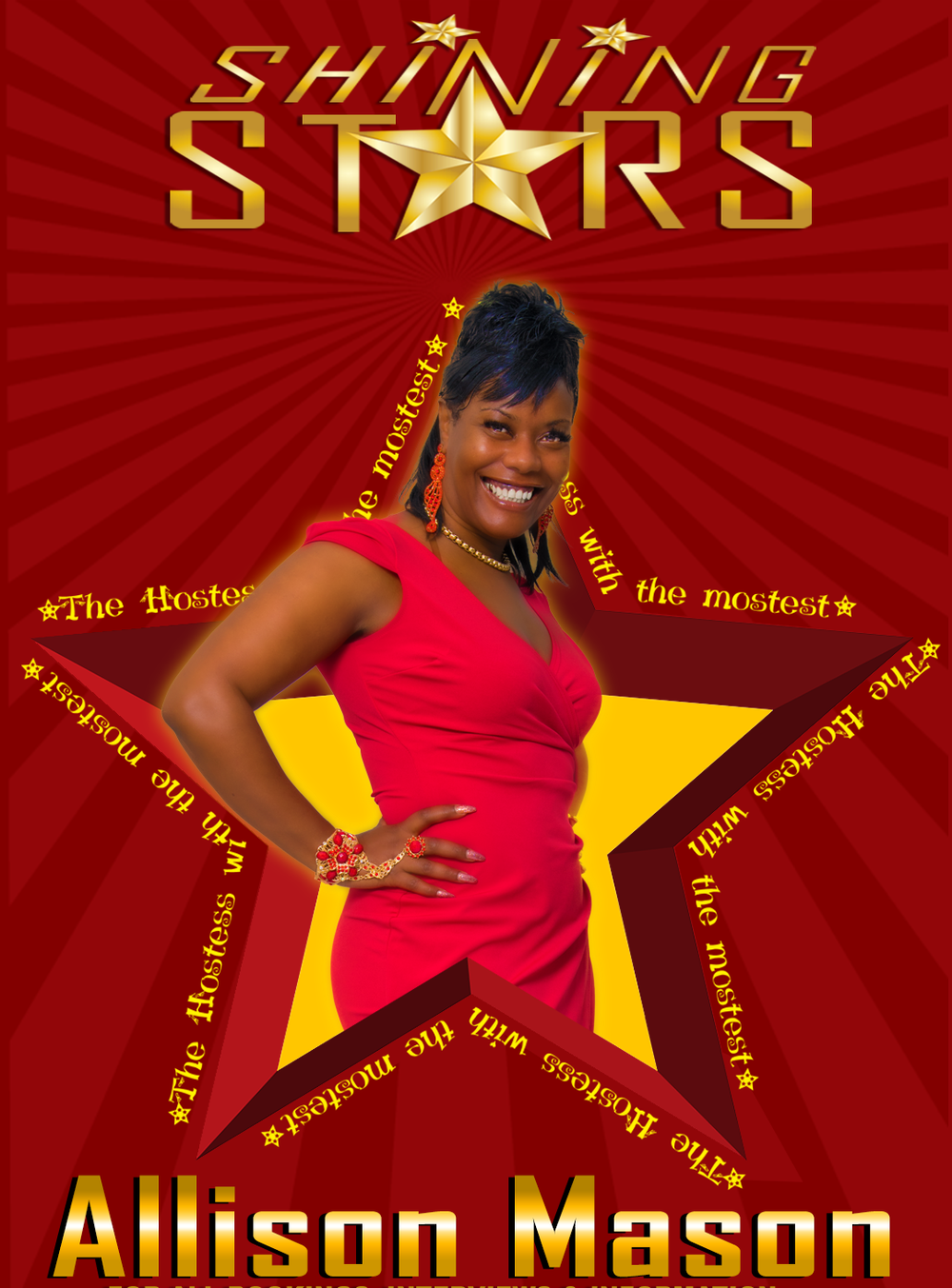 ALLISON MASON
The Multi Talented One 
Dubbed The Hostess with the Mostess, Allison always loved Entertaining, Singing, Acting and Presenting unable to decide on just one career she decided to do all and more!!  A true humanitarian , community activist and an educator by day - Multi tasking seems to be her motto. Inspired, Driven, Motivated, Passionate and Dedicated her Scorpio traits are put to use in her versatility and accredited to her success. For over 25 years Allison has remained in the Entertainment Industry in various capacities. In 2015 she co founded Shining Stars and as CEO is a real Boss Lady Boss. 
RADIO 
2016 - 2020   GN RADIO    I present a popular weekly show interviewing a different Guest Artist, Musician, Actor, Producer or Promoter each week. 
1996 -1998    BRI FM, ROCKERS FM co-presented 28 day restricted licensed radio with Sugar Dread  for the late great Tony Williams 
1991-1999   POWERJAM 92FM  
 co-presented Award winning weekly radio show with Sugar Dread, Allison did Black History, Poetry, Hosting Talent Shows, Jingles and Special Requests.  The Wicky Wacky Club was the Children and Youths part of their popular Family Show. 
THEATRE 
From 1994 to the Present I have appeared regularly, all over the UK in various Theatre productions. From Caribbean comedy tours with Blue Mountain Theatre at Hackney Empire and Catford Broadway, to a six night per week ; 2 month run of Black Spartacus at The Courtyard Theatre to script in hand productions of Kwame Kwei- Armah's - Elmina's Kitchen at Bristol Old Vic .  Directed by Hyacinth Brown, Pablo Hoillet, Joe Charles, Cameron Jack and Anton Phillips to name a few , I have acted , amongst others with - Oliver Samuels, Audrey Reid, Terri Salmon, Charles Tomlin, Lovena Brown, Calvin Morris, Lavern Archer, Trevor Thomas, Chris Tummings, Wayne Rollins. Ian Pryce, Richie Campbell, Geoff Schumann, Angie Greaves, Ben Onwukwe, Jim Findley, Ray Sesay and Jade Fearon .
TELEVISION 
2020 -Present    SHINING STARS TV SHOW  I present a weekly show interviewing Artists, Musicians, Actors, Authors, Producers and Community Giants.  The Shining Stars TV Show is on Channel 7       SKY TV  182    
2017-19   BEN TV   Caribbean Gateway Guest Presenter  
2011   MALIBU WEBISODES    Publicis 
2006 - 2008    WINWIN  TVJ   JAMAICA   I presented LIVE show 3 nights per week 
2007-2008     QUIZ TIME TV6  TRINIDAD and TOBAGO  I presented LIVE  once a week 
1997     NUTTY DREADFUL  IC3  Cable TV  comedy sketch show
FILMS 
2021  GET IN   Nothing to Something Films 
2020   THE ESSENCE part 3  Island Records/Universal 
2013   IT'S A LOT     Kaleidoscope Entertainment 
2011    ANUVAHOOD  Revolver Entertainment 
1998     NOTTING HILL  20/20 Casting
I have filmed with Richie Campbell, Femi Oyeneran, Ashley Chin, Michael 'Buck' Maris, Charles Tomlin, Levi Roots . Adam Deacon, Owen Frost, Curtis Walker, Felicity Ethnic, Erina Mashate, Sordyl Jamie.
VOICE OVERS 
1991- Present    I have voiced countless adverts and jingles for community radio stations and DJs - POWERJAM, VIBES FM, THE ROCK , VENTURE FM, GALAXY RADIO etc... 
April  2016   BBC RADIO 4   Radio Play 
June  2016   BBC TV NEWS / BBC RADIO NEWS I provided the VOICE of  MARY SEACOLE when her statue was raised outside St Thomas's   Hospital.
  2019  Voiced musical documentary for REGGAE REGULARS 
2019 - Present  I interview various Artists for Don Sinclair Reggae Vibes You Tube Channel 
MUSIC 
1994   Recorded album for TWINKLE BROS - WAILING 
1996   Recorded album for TWINKLE BROS -  ISM SKISM 
1996   Recorded for ARIWA -DIVAS EN ROOTS - ONE POT  and MOTIVATION  
1994 - 1999  I toured USA, UK and Europe with BERRIS BASSA , VIVIAN JONES, TWINKLE BROS, CULTURE, MAX ROMEO, MIGHTY DIAMONDS, LITTLE ROY, GREGORY ISAACS, ERROL DUNKLEY 
HOST/MC 
2012- Present     
I currently host LIVE events/stage shows calling Artists on stage. I'm blessed to have hosted Stage Shows in Jamaica and UK and have called to stage  RICHIE STEVENS, MAX ROMEO, BIG YOUTH, EEK A MOUSE, FREDDIE McGREGOR, MARCIA GRIFFITHS, SUPA CAT, SANCHEZ, ROMAIN VIRGO, ADMIRAL TIBET, LITTLE ROY, TWINKLE BROS, JAH 9, LUKIE D, and ALL the UK ARTISTS including TIPPA IRIE, PETER HUNNINGALE, JANET KAY, CARROLL THOMPSON, EARL 16, LURINE CATO, STYLO G, SHINING STARS ARTISTS  etc
ARTIST MANAGEMENT/ PROMOTION 
2015- Present     
I co-founded  SHINING STARS ENT/MANAGEMENT with Andrew Sloley , I am CEO and I currently manage 16 acts,( artists, dancers and poet) Legendary SuperStar BARRY BIGGS, ANDREW SLOLEY, SESE FOSTER, CHUCKY BANTAN, ABKA KABA (formerly sheldon snr), CLARKZ, DANNY SPRANG, URKLE, SYDNEY PRINCE, AYODI, CANDY SILK, ROB RADIX BAILEY, D'ADRIAN TOMLIN, LEANNA FERGUSON  SMOOCHY LOU , ASTON ESSON with Myself as Host/MC 
2015 – Present   SHINING STARS ENT have promoted several of our own successful events at HOOTANANNY and UPSTAIRS at THE RITZY, being innovative since May 2020 we have held  Zoom, You Tube and FB Live Streams concerts, one of which was partnered by French Media House, PARTY TIME FR  Our Zoom Episodes have featured top Artists GLEN WASHINGTON, DENNIS ALCAPONE, LITTLE ROY, BARRY BIGGS, WINSTON REEDY, GENERAL SAINT, TWINKLE BROS, AL CAMPBELL, SYLVIA TELLA, TRILLA JENNA, VIVIAN JONES , MIKE ANTONY, SATIVA D BLACK 1, RAS CHARMER , MANDEE, SIS TA RUBY and JJ BORN TO SING amongst so many others. Shining Stars also had a World Sound System Link Up on Zoom with Sound Systems from Africa, America, UK, Jamaica, Antigua, Barbados and Trinidad  with our special guest Lloyd Coxsone.
SHINING STARS ENT are a dynamic force of diverse entertainment, a complete stageshow ready to thrill any crowd/ warm up acts.